KPMG, a leading professional services firm, has partnered with four other organisations, through the KPMG ASEAN Decarbonisation Hub, to equip businesses in the region to meet their sustainability goals in the face of strong economic headwinds and uncertainties. Through this partnership, businesses in the region will be able to "plug-and-play" decarbonisation solutions as they undertake ESG transformation towards meeting net zero goals. They will also be able to raise green financing, gain credible accreditations and certifications, and leverage digital tools for cost-effective growth. A major focus of the partnership will be to facilitate low-carbon and energy-efficiency project origination, structuring, financing, and implementation. 
The four partnering organisations are Bureau Veritas (BV), Energy Institute (EI), Maybank Singapore (Maybank), and two research institutes at the National University of Singapore (NUS) – Energy Studies Institute (ESI) and Sustainable and Green Finance Institute (SGFIN). These four organisations have each signed a Memorandum of Understanding with KPMG to provide their complementary expertise to catalyse businesses' decarbonisation goals via the Hub. 
KPMG and the four partnering organisations will work together to help businesses manage the impact of climate change (see figure 1 below). Leveraging their complementary skills, they will provide businesses with customised plans to achieve their net-zero goals, including creating a carbon reduction roadmap and supporting implementation. Companies will also receive tools and solutions to pilot environment-friendly projects that offer economic incentives for reducing carbon emissions. In addition, Maybank will provide sustainable financing to encourage a strong pipeline of decarbonisation projects – this will set a precedent for successful use cases across the decarbonisation value chain, thereby increasing financing for similar projects in the region.
Finally, the Hub will also be running industry workshops in collaboration with the Energy Institute and develop thought leadership and research in the decarbonisation space together with NUS. Some of the capability development and transformation tools slated to be covered include energy efficiency across the value chain, electrification of vehicles, the greening of buildings, renewable energy integration, smart grids, and carbon sequestration, among others. KPMG plans to collaborate with more organisations in the future, via the ASEAN Decarbonisation Hub, to provide businesses with greater capabilities and expertise that can address their decarbonisation requirements.
Sharad Somani, Partner, Head of KPMG ESG, KPMG in Singapore said, "As businesses strive to achieve net-zero commitments, they must develop implementable plans and document their carbon footprint through climate accounting infrastructure to demonstrate progress. Unfortunately, not all companies are equipped to do so. To successfully tackle climate change, collaboration is essential. That's why KPMG created the ASEAN Decarbonisation Hub – to bring together organisations with complementary skills, with the shared goal of net-zero emissions – which we are seeing in this collaborative alliance with Bureau Veritas, Energy Institute, Maybank, and the National University of Singapore. KPMG is also expanding the tools, financing, and access to expertise for both public and private sectors to help build resilience and reach sustainability objectives during uncertain economic conditions – all in pursuit of achieving net-zero emissions."
In a KPMG 2022 CEO Outlook survey, Singapore CEOs identified the main barriers to their ESG strategies as the difficulties in identifying and measuring metrics (28 percent), lack of skills for implementation (28 percent), and lack of budget for investing in ESG transformation (20 percent). Hence, this collaborative alliance with its plug-and-play solutions, expertise, and training for decarbonisation are intended to address these concerns and help move Singapore closer to reaching its goal of reducing emissions to 60 million tonnes by 2030.
Decarbonising of industries is expected to create 5.5 million jobs globally by 2050, and 50,000 in Singapore by 2030. These jobs may include those in areas such as energy efficiency, supply chain decarbonisation, green procurement, new energy technologies, carbon trading, and green finance.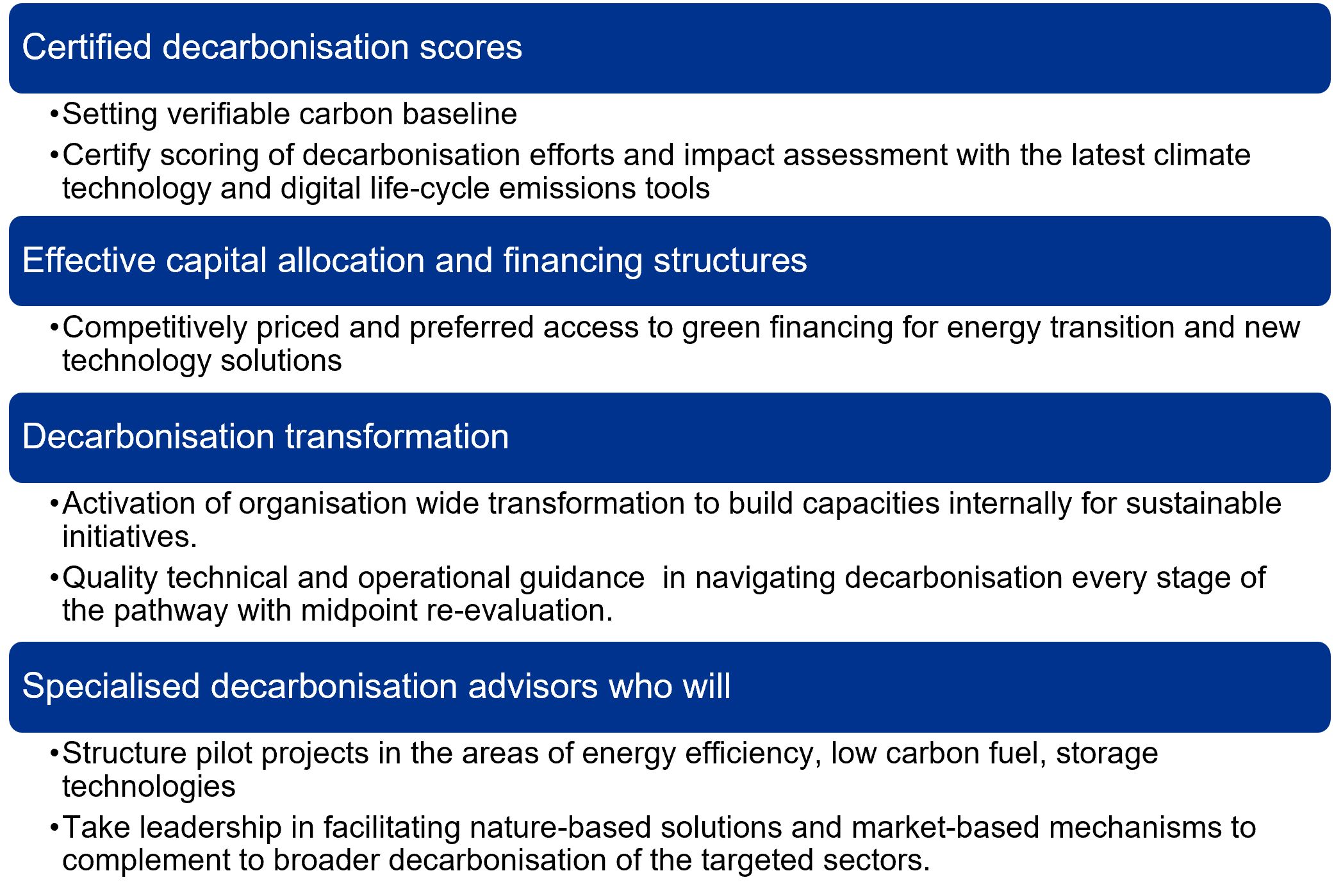 Vincent Bourdil, Senior Vice President, of CIF South East Asia & CIF PAC Operating Region, commented, "At BV, Sustainability is embedded into our strategy, our organisation, our culture, and across all our businesses. We serve our clients to meet the challenges of safety, the environment, social responsibility, and product or service quality all along the chain. This joint partnership between Bureau Veritas and KPMG is testament to the way we contribute to our clients' sustainability journey and help them shaping trust with their stakeholders in Southeast Asia. Leveraging our strong global expertise and local presence, we are looking forward to collaborating and developing innovative decarbonisation solutions together across the energy, transport, and real estate sectors. In today's world where sustainability knows no borders, I am delighted that Bureau Veritas, as a Business to Business to Society company, has shown its critical role to shape trust between businesses, public authorities, and consumers."
Peter Godfrey, Managing Director – APAC of the Energy Institute said that "creating a just energy transition towards a greener, cleaner future represents one, if not the greatest, of challenges of our time, and decarbonisation lies at the very heart of this challenge. But at the time, the energy transition has the potential to become a massive opportunity, not only by transforming our lives but by creating fundamentally new ways of value creation and increased prosperity focused on the creation of a more sustainable future for us all. Achieving these opportunities requires a collective effort by governments, businesses, and individuals to ensure that economic, social, and political challenges such as energy security, job creation, and addressing energy poverty are overcome as part of our journey to a more sustainable world. The Energy Institute is focused on "Creating a better energy future for our members and society by acceleration of a just global energy transition to net zero" and, within this context, is proud to be working in partnership with KPMG to develop its newly established ASEAN Decarbonisation Hub. There is much that can be done to improve the regulatory, technical, and investment/financial inertia directed at accelerating sustainable business practices with the SE Asia region and we look forward to assisting in the process of building the capacity required to build appropriate pathways towards the more sustainable future we all strive for".     
Dr. John Lee, Maybank Singapore Country Chief Executive Officer & CEO, said, "Maybank Singapore is proud to be part of this forward step in driving our leadership position in the sustainability agenda through this joint partnership. This is also aligned with the Maybank Group's approach to developing strategic alliances with like-minded sustainability advocates to facilitate knowledge exchange in today's business environment, where ESG is increasingly an important agenda for many companies. We will continue to advocate sustainable financing solutions that can drive down emissions. As a leading bank in Asia and as the only bank with omnipresence in all 10 ASEAN countries, we want to drive long-term value creation for businesses and the community, remaining true to our mission of Humanising Financial Services. As decarbonisation is a transition journey for many, we will help potential clients to navigate their ESG journey with us to create a sustainable future yet meet their business objectives at the same time."
Associate Professor Lee Poh Seng, Director of NUS Energy Studies Institute, said, "ESI is thrilled to partner with KPMG on this important initiative. Together, we will be able to leverage our collective expertise to tackle some of the most pressing energy challenges of our time, including decarbonization and the development of new digital tools and methodologies. We believe that this collaboration will expand the range of opportunities, and depth of impact we have in accelerating the transition to a sustainable energy future for Singapore and beyond."
Professor Sumit Agarwal, Managing Director of the Sustainable and Green Finance Institute at NUS, said, "SGFIN enthusiastically supports this crucial initiative as a part of NUS' broader push towards a more sustainable world.  Data-driven research is an important driver of potential innovations, tools, and solutions that will accelerate the development of businesses' capability in tackling difficult challenges towards a lower-carbon society."